Hi. If you're someone who celebrates "Turkey Day" I hope you had a lovely time. I sure did.
I want to tell you what's been happening with me, well really more specifically, with Nikki's Magic Wand. It's been a busy, busy time! We've been feverishly working on website edits and Julie, our creative guru, has been polishing up the site while the best friend and I have been taking in its wonder every day. It is almost right where we want it and I couldn't be more excited. First off, I, Nikki, have a website! That, in and of itself, is crazy to me. AND, it's a beautiful, professional site (hey, I can say that because it's Julie's creation). Julie just created the Facebook and Twitter pages and at last check, the FB page had almost 90 "Likes" in 2 days and Twitter has four "Followers". 🙂 Hey, we're growing, step by step. I am getting ready for the BIG launch on 12/22/12 and there's SO much to consider and to do. I have been monitoring my Evite responses. I have been jotting down who would like VIP tickets. I have been preparing VIP gift bags. I have ordered the "Step and Repeat"(banner) with our amazing logo all over it, for the guests to stand in front of to be photographed. I have secured the photographer. We have been meeting with and e-mailing our business consultants ensuring that we're keeping the business aspect in check. We submitted our first ever Press Release and submitted it to a wire service. Fingers crossed it will be picked up. My mind is constantly moving, trying to stay on top of everything at once. I don't want to miss any opportunities to connect with people who could ultimately help me get the word out there in a major way. I have to mention something here. This project has really revealed the true mettle of my friends and family. The support and love I have been shown during this journey, up to this point, has been absolutely amazing. I have a friend, who lives in Michigan, who has been talking about Nikki's Magic Wand non-stop. She's been handing out post cards and spreading the word like crazy. She is just one example, among MANY that have shown me their hearts during this ride so far. I also have to mention how thankful I am for Miyoshi Anderson, Founder of Pittsburgh Fashion Week. She has graciously agreed to partner with me on the event by spreading the word about the Wand and the launch. I am thankful for her guidance and event planning tips. She is a true gem.
2011- When we last went down memory lane, Julie had just shown us the logo and the love was instant. She immediately set about the task of branding. What will the company feel like, look like, make people think of when they think of it? Neither the best friend nor I are flowery women. She rides motorcycles and can fix cars! 🙂 We knew we wanted the Wand and the company to be chic, sleek, simple, elegant—blacks and golds and grays. We wanted the product and company to walk among the Nars, the MACs, the Chanels. This is an important point because once you decide that, it will need to speak to everything you do going forward–business cards, website, stationery. The brand has to be consistent and focused. Yet, something else I needed to learn. Thankfully this wasn't hard for Julie to grasp because she is that type of woman and knew instantly what we were after. She presented us with catch phrases and mottos that were cool, funny and sassy. Just wait until you see her packaging. It is all of those things I just listed. So, we were rolling along. We had the logo and the color scheme and "look" established. The design guy, Vince was checking in from time to time with designs for the wand and we had meetings to discuss his progress. We talked about how long it should be, what the tip should look like, what material to make it out of. After those discussions we got to the point where we were ready to produce our first EVER prototype!!!!!!!! Wanna see it?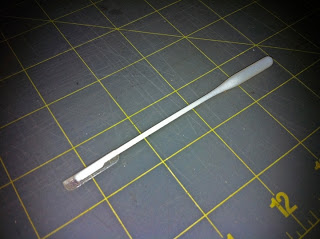 Isn't it gorgeous? I cannot tell you how excited I was when this little piece of plastic came in the mail. And, oh my goodness, it worked!!!! It really got the inside of my make-up tubes CLEAN! Like there had never been anything in them originally. So, the next step was to take it around, show it off, let people try it out and gather feedback.
I'll stop here. As always, thanks for reading and for taking this journey with me. Until next time.
22 days 'til the Launch and I am nervous, happy, anxious, but ready!